Best Times To Post On Facebook 2018: Marketing And Growth Hacking
Best Times To Post On Facebook 2018: Marketing And Growth Hacking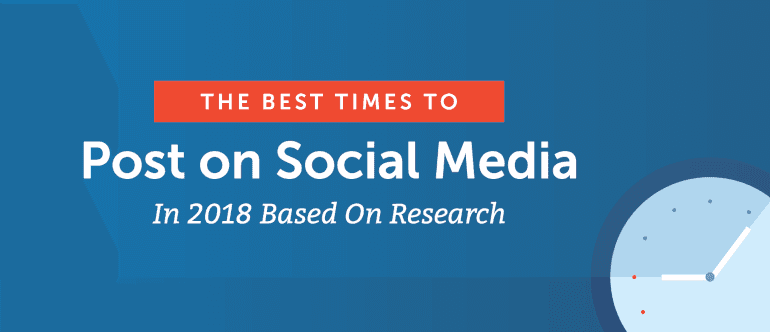 You have worked really hard on those social media posts for the campaign, but do you have any idea how many people will be engaged? It is crucial to learn the best time for posting on social media since it is more than just clicking.
Audience engagement changes per network and even with each industry. Managing various social media communities takes more than just knowledge. Finding the best time for posting to Facebook can massively help in the growth of your business and as well as reach out to your potential audiences – even as organic reach fails to decline.
But knowing the best time for posting can be challenging and we would love to help you gain knowledge.
In this blog, we'll share what are best times to post on social media content on your Facebook page for maximum exposure, reach and engagement.
Let's take a look at the best times to post on social media!
Best Times To Post On Social Media: Facebook
Facebook still rules being the supreme social media influencer with more than 1.4 billion active daily users. It is also the top choice for most social advertising with around 93% of marketers using this platform regularly.
It's simply not easy as to reach your potential customers anymore. With newest Facebook algorithm updates, users see more posts from their family and friends instead of business pages.
Brands still notice organic engagement from Facebook users, but it's all a guessing game on what works the best. Luckily, in this blog, we have provided deep insight into what time exactly the most engagement are received across the globe. Here are a few points we found:
l The best times to post content on Facebook are on Wednesday noon and 2 p.m. and on Thursday from 1 to 2 p.m.
l The best day is Thursday on Facebook
l The safest time to post also includes weekdays from 10 a.m. to 3 p.m.
l The least engagement amount for Facebook is Saturdays.
l Also, early mornings and evenings have the least engagement amount in a day.
What We've Learned
If this data shows us anything, it is the rates of engagement consistently at the peak hours during the weekdays' midday. The most Facebook engagements are seen during the typical lunch breaks during Thursday and Wednesday. This can be from the users being active during lunch hours or simply due to free time on their phone.
Also additionally, weekends tend to the poorest times for engagement -, especially during Saturdays. People are usually out on Saturdays, expecting much engagement from your audience would be a mistake.
Focus On Sharing Great Content (As Well As The Best Times)
When your friends get engaged or married, the chance of seeing their wedding photos would be stuck at top of your News Feed all day, regardless of what time the photos are posted. This happens because whether you like them or not, the wedding photos are a great content. As soon as they're posted, a bunch of people rush to comment and like on them.
If you want successful Facebook engagement and growth for your brand, content is not just enough but timing is important as well!